Collection of hymns about Jesus Christ sung by Naomi Tashiro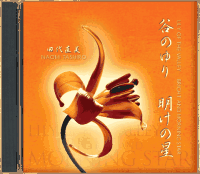 As history shows, God uses a vast assortment of people to proclaim His glorious truth. Some of God's chosen vessels include well-known saints, admired for their scores of sacred works, while other vessels, simple layman, eagerly displayed one heartfelt message in song for God's glory. No matter the renown of the individual God merited to him the faith and the talent to accomplish the task. It is this same God who saved me in America while I was a high school student. After I finished college in Japan, God led me to Bob Jones University, a fundamental Christian university in South Carolina. Here the Lord opened the door for me to study the Bible as well as music. I am thankful that God can use even an unworthy vessel like me to praise Him in song. Such sacred songs, in addition to God's Word, often provide me with comfort, encouragement, prayers of thanksgiving, and even with a much-needed reflection of my own sinful heart. I thank God for this encouraging and even rebuking aspect of music.
For this CD, I selected songs about Jesus Christ, the Creator and Sustainer of heaven and earth. He, though truly God, took the form of human flesh in order that He might make manifest the invisible eternal God. Ultimately, Christ revealed God's love through His death on the cross and His power over death through His resurrection the third day. May these hymns of Jesus represent not only a window capable of receiving God's blessing, but also a viewing porthole through which men may look out and see clearly the image of Christ. And I will be very happy if this window of song enables the hearts of listeners to light up with praises that proclaim, "Thou art fairer than the children of men . . ." (Psalm 45:2)
1. Fairest Lord Jesus (Download 30 second sample MP3!)
2. Jesu dulcis memoria/Jesus, the Very Thought of Thee
3. I've Found a Friend in Jesus
4. Jesus, Rose of Sharon
5. There's a Rose That Is Blooming
6. Hallelujah, What a Saviour!
7. When I Survey the Wondrous Cross
8. O For a Thousand Tongues
9. When Morning Gilds the Skies
10. All Hail the Power of Jesus' Name
11. There Is a Fountain
12. Crown Him with Many Crowns
13. The Sands of Time Are Sinking (Download 30 second sample MP3!)
14. My Saviour First of All
15. My Jesus, I love Thee
To purchase a CD or give your comments, click here to contact Naomi.
Hosted by